The idea is the following:

All users having the software and an enabled Mobile-Phone or PDA can use the system - for Skiing or for other installable MSLS-Services.
Also the Skiing System has been designed with Dpdl.

When skiing, the software must run in order to retrieve automatically, in wireless form the data at every lift.
Every user has a Number, like a phonenumber, which can serve to visualize earchother's position on the slope, of course the system respects privacy --> ex. I can lock my profile for everybody except for my girlfriend.
| | | |
| --- | --- | --- |
| Main Menu | | Skiing-System |
| | | |

Also skiing relevant data can be retrieved anytime: ex. the nearest après-ski, the closing time of the slopes, the queue status, if there is a cottage in the nearby etc...
here some screen-shots ---> more features can be implemented in ~0 time
| | | |
| --- | --- | --- |
| Visualized User Trail | | Queue-Status |
| | | |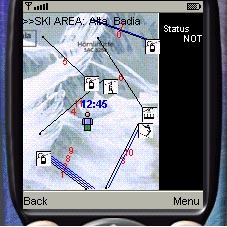 | | | |
| --- | --- | --- |
| Lift-Selection | | Lift-Data |
| | | |